SteamCloud Micro Oil Vape Review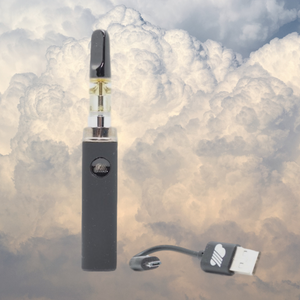 Folks who are new to vaping prefer, and rightfully deserve small, easy-to-use, dependable vapes.  The Micro is a variable voltage battery, which means you can adjust the heat and have more control over the quantity and quality of vapor during your vaping experience.
Even though the SteamCloud Micro is primarily an oil vape battery, you can expand it to use your product of choice. If you like wax or dry herbs, there are coil attachments for those options, no worries.  Dry herb atomizers and wax coils can be easily attached for your enjoyment.
Truly, you can enhance and refine your vaping experience multiple ways by using the SteamCloud Micro Battery.
What comes in the SteamCloud Micro Kit?
You'll receive everything you need in our discreetly packaged box. It's all there - your SteamCloud Micro Variable Voltage 510 Vape Battery, a micro USB charging cable, and a user manual.
Why Buy the SteamCloud Micro?
At 2.75 inches tall, 5/8 inches wide, 3/8 inch deep and packing 360 mAh battery capacity, it is small and mighty, and ready to serve you. The battery will last all day long and into the night no problem. The design is great, it is sleek, black, good looking, and unostentatious. You can slip it into any pocket, loose jeans or tight. 
The Micro is 510 compatible. You might ask what that means. Well, 510 is a term used to describe the threading that connects vape cartridges and batteries – 510 literally means 10 threads at 0.5 mm per thread. The SteamCloud Micro is 510 compatible, and that means you can use it with any oil cartridge, wax coil, or dry herb coil with 510 threading. Just keep in mind that any 510 vape part will go with any 510 battery.
There's also a 610 threading. The industry, however, is moving toward exclusive 510 threading. That's a welcome trend in a proprietary world.
The Micro is a variable voltage battery. It has 3 voltage settings that vary with the push of a button, making it easy to fine tune the vaping experience.  Choose from 3.2, 3.7, or 4.0 volts. Turn it on with 5 clicks of the button - you can turn it off using the 10-second auto shut off safety feature.
How to use the SteamCloud Micro?
First off, the battery needs to be charged. You can get by with a partial charge, but it's just better to start your day with a fully charged battery. We don't recommend leaving it on the charger all night. It takes about 1-2 hours for a full charge, so you can schedule that easily.
Now screw on a 510 compatible cartridge or coil to the top of the battery, not too tight and not too loose. The cartridge can always be adjusted if needed. Press the power button quickly 5 times to turn the battery on. The light behind the power button will flash until it's powered up. Once it's powered on, the power button will light up whenever you push it to vape.
Besides the on/off red light, there are other lights. You've got green, blue, and red - one for each pre-set voltage. To change the voltage, press the power button 3 times quickly. You'll get a green light for 3.2 volts, a blue light for 3.7 volts, and a red light for 4.0 volts. Now that it's charged and the vape is attached, choose a voltage setting, press the power button and gradually take a pull. It's true that cartridges themselves vary in the amount of voltage they actually use. Practically speaking, that means you might be getting a little different voltage than you've chosen and subsequently, a different quality of vapor.
Regardless of how a cartridge might affect voltage, it's good to tinker with the settings for every cartridge you use. Press the button for a few seconds before vaping - do you get a bigger puff? Is it more flavorful? Experiment with pressing the button for a second or two up to 5 seconds.
Shut the battery down by holding the power button for ten seconds. This is a useful safety feature. The battery can't turn on unless you press the button again. You'll save battery power and may prevent the cartridge from vaporizing which can happen if it is accidentally turned on. For instance, if it's still turned on and in your back pocket, you could sit down and press the button!
SteamCloud Micro Troubleshooting Tips
If your Micro won't turn on, there's a couple of things you can do. Follow the instructions for starting up: make sure the mini USB charger is plugged into a power source (like your computer or phone or another usb equipped item) and plug the other end into the battery. Your power source should be plugged into an outlet to ensure enough juice gets to the battery.
If you've got an iPad, you can use a lightning to USB cable for connecting the lightning port on your tablet to the mini USB charger. However and wherever you decide to charge, you should see a red light on the bottom of the charger. If the light doesn't come on and if you've got another charger, try that one. If it charges that indicates your Micro USB charger isn't functioning.
If the charging light comes on but the Micro doesn't charge sufficiently or at all after two hours, try another charger. Press the power button 5 times quickly. The light behind the power button should flash when the battery is being turned on (or off). After it's on you'll get a solid red light when you press the button.
If your battery won't charge in a reasonable amount of time (2hours), it could be the charger is not functioning well or it could be an issue with the battery, such as internal wiring.
Maintenance and Cleaning the SteamCloud Micro
Maintenance is straightforward. Alert: don't drop it in water and for that matter don't let it near any water!  Wipe it with a barely moist cloth to clean the outside and you'll be done. Don't use alcohol or other cleaning solutions like soap or Windex, because they could mar or discolor the pen.
Comparing and Contrasting the SteamCloud Micro with other batteries
SteamCloud makes several vape batteries, all with attractive features. The SteamCloud Stylus is a classic oil vape. The SteamCloud Micro and SteamCloud EVOD share cool features. They can both be used for oil, wax, and dry herb, and both have variable voltage controls. Likewise, the Mini 2.0 is a variable voltage oil vape. 
The Mini is practically and aesthetically intriguing. It's a little boxy because there's a built-in cartridge receptacle. The sweet thing about the receptacle is that the cartridge goes inside, instead of on top. Consequently, it's a very small vape @ 2.5" total height, 1.1" length, and .7" width. The battery capacity is stellar @650 mAh. You slip an oil cartridge in and there you are, ready to adventure.
The SteamCloud Stylus vape battery is an iteration of battery vapes were the the "it" vapes at the dawn of cannabis vaping. Some people say that was about seven years ago. I don't recall, but I like the way the Stylus works. It's is a sturdy 3.25" high and true to its roots has no voltage variation. The vaporization simply begins when you take a pull on it, providing an always dependable 3.7 volts. It sports a 280 mAh battery, and that battery is always on even when you're not using it, so be mindful of that when you're out and about. You might also want to unscrew the cartridge to preserve its capacity and quality.
The similarities between the EVOD and the Micro are striking. They're both cutting edge batteries. Both have variable voltage controls. The EVOD has 4 settings, from 3.3 to 4.8 volts. The Micro gives users a choice of 3 settings, from 3.2 to 4 volts.
SteamCloud Micro and EVOD batteries both accept screw-on cartridges, coils, and dry herb atomizers. The vaping options can really make a difference in your experience and enjoyment.
Another striking similarity? These batteries are cutting edge but not expensive. They're a tremendous value for what they can do.
The differences between them aren't really about what the batteries can do. They're cutting edge, they do a lot. The difference is in how you operate them. It's a bit different. The Micro's voltage is controlled with a button, as described above in the How to Use section. The EVOD uses a twist control, which is a little more cutting edge, a little more intuitive.
Is the SteamCloud Micro right for me?
It really comes down to what you want. Are you enticed by variable controlled voltage? Are you a person who likes to mix things up, including vaping choices? Do you like small and streamlined and discrete? Do you want excellent value for what you purchase?
These are the SteamCloud Micro's outstanding benefits. If these benefits meet your needs, the Micro's the vape battery for you.
Last but not least is the cost. It's the least expensive of the SteamCloud line of variable-voltage batteries. And that's a rock-solid benefit.