SteamCloud Stylus Vape Pen Review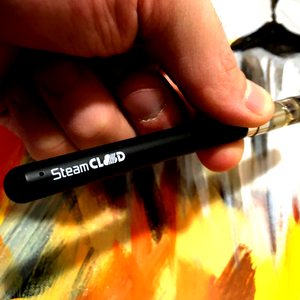 This vape pen looks incredibly similar to an e-cig, helping to keep it more inconspicuous and easy to take with you and smoke whenever you are permitted. With a slim and small body, it is one of the most portable vaping devices out there.
The SteamCloud stylus is a battery that you can then attach to any skinny, 510 oil cartridge. Technically skinny wax cartridges will work with this battery, however, we recommend other vape batteries for the wax coils.  With the Stylus vape pen, simply attach the cartridge and you can start to enjoy vaping oils immediately. Many other vaping devices have a power button but not this one. As soon as you have it screwed and in and the oils in the correct place, you can start to pull. The only thing you need to do is to make sure the battery is charged before your vape sessions.
This stylus is becoming more and more popular, and it is easy to see why. Even though it is slightly limited as you can vape only oils, it is still an excellent option for those who want to get started with vaping thanks to effectiveness and affordability. With the portability, ease of use, and low cost, the SteamCloud Stylus is a top choice for people who love to vape.
Features of the SteamCloud Stylus Vape Battery
The most attractive feature of the SteamCloud Stylus is, without a doubt, the portability and discreetness of the vape pen. It looks and weighs about the same as a regular ball-point pen, so you can slip in and out of any pocket and use it efficiently. With the small size of this pen, if you are a vaper that likes to vape on the move, then you should not overlook this pen.
This stylus is small enough that you can put it anywhere - bag, purse, and even the tightest of pockets. It is so tiny and slim that you can take drags of it while keeping it hidden in your hand, so if you want to smoke in open spaces inconspicuously, then the SteamCloud Stylus should become your go-to device.
Specifications of the SteamCloud Stylus Vape
Compatible with nearly all skinny 510 oil cartridges
280 mAh battery
7 volts
25 inches long
The kits contain a stylus vape pen battery and a USB charger. That is just about all you need to get started!
Due to its simplistic nature, this skinny vape pen battery has become extremely popular. The device is activated by simply take a puff from the device. The battery is generally between 3-5 watts which helps you to get a good pull and burn all kinds of oils efficiently. The battery can often last for many days, even if you a relatively heavy user.
How To Vape With The SteamCloud Stylus
Vaping is suddenly made easy again with this stylus pen. It is nearly impossible to smoke out of it wrong, even if you are a first-time vaper. As long as it is connected to the skinny 510 cartridges, the device will work and generate heat, allowing you to vape as much as you want. The cartridges are nearly always single use, but you can sometimes re-use them, and in either case, just remove an old one and attach a new one to start vaping again. All you need to watch out for is not to keep the device running and do not damage or ruin the battery.
To use the stylus, you must charge the device by plugging it into the USB charger that was provided in your kit. You can plug it into any working power source like a laptop, phone charger, or in your car. A red LED light indicates that the device is charging. After one to two hours of charging, the LED indicator light will turn green, which means the device is ready to be used.
Once it is fully charged, get your 510 oil cartridge and simply screw it onto the top of the battery. Follow the threading to make sure it is fully screwed in, and once that it is done, the circuit will be complete, and the battery will now be able to operate.
After the battery and cartridge are connected, all you have to do to vape is take a pull, and the vapor will start to emanate from the mouthpiece. To keep vaping, simply continue taking pulls. Just be aware that the battery will also be activated when the threading is connected. If you have finished vaping, you should unscrew the cartridge to save it for later and to ensure that you are not burning through the battery's power. Doing this will help keep your battery healthier longer.
How To Clean Your SteamCloud Stylus
Just like most vaping devices, you should keep it away from moisture or intense heat, as both of these could potentially harm or destroy your stylus. If the battery gets overly hot, it could even catch fire or explode, which could cause injuries or other damage.
However, you do not have anything to worry about as long as you are properly using the SteamCloud stylus. If it is a hot summer day, then you should not keep the battery trapped in a hot car. Instead, make it a habit of storing it in a drawer or a bag that is never exposed to extreme heat.
After a few weeks of use, you should wipe the pen clean of hand oils or grease that might have collected on it due to regular use. Occasionally, you might experience a leaky cartridge, but luckily that doesn't happen too often. Because the oil is already in the cartridges and you won't have to worry about filling them up, the pen should avoid any major accidents with oil spilling.
Is the SteamCloud Stylus Right For You?
This stylus is perfect for anyone who is looking for something extremely easy to use and doesn't want anything extremely fancy. If you can easily obtain pre-filled oil tanks, then you should definitely consider the SteamCloud stylus. As more and more people begin to carry around vapers, this SteamCloud Stylus will fit right in, and most people probably won't even notice that you have it with you, even as you are vaping with it. This stylus is perfect for anyone who wants to vape but doesn't want to draw a lot of attention to that fact.
However, if you have specific vaping specs that you want your device to have such as vapor production, temperature control, or flavor control, then this is most likely not the device for you. If you want to vape more than just oils, then you should also consider other devices. As mentioned above, the SteamCloud stylus is an extremely uncomplicated pen, with no extra bells or whistles attached. The lack of added features makes it ideal for someone who is just starting out and wants an easy pen to get acclimated to vaping.
SteamCloud Stylus vs the SteamCloud Mini 2.0
Both of these pens are extremely small and discreet, allowing you to take a puff quickly. The Stylus is a bit slimmer, allowing you to slip it into any pocket. The SteamCloud Stylus is the more basic version of the two, compatible only with vaping oils whereas the SteamCloud Mini 2.0 can be used with both oil and wax. With the SteamCloud stylus, you have almost no control over the pen except in the how long you pull in vapors. You cannot change the temperature or voltage, while the SteamCloud Mini 2.0 does allow for greater control It has three different temperature settings so you can customize your vape sessions depending on what you are looking for. If you want bigger vape clouds or you value flavor more, the Mini 2.0 can help you achieve that much better than the SteamCloud Stylus. However, because you are able to customize your vape experience more with the SteamCloud Mini 2.0, it will be much more pricer than the Stylus. The Mini 2.0 is better for an experienced vaper who knows what they want. The SteamCloud Stylus is ideal for a new vaper who wants to explore more before they commit to a pricer device.
The SteamCloud Stylus is a great, small device for someone who values portability and ease of use. The fact that users do not have to refill the cartridges on their own also adds to its appeal because it eliminates mess and cleanup. The only thing to watch for when using the vape pen is when you are done, to make sure you unscrew the cartridge from the battery, that way you can ensure that the battery last longer and has a healthier life. Other than that, the SteamCloud stylus is so easy to do, all you have to do is take a deep puff and you are vaping.