SteamCloud Box Mod Vape Review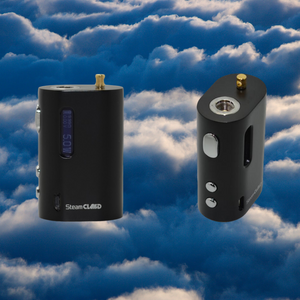 When many first started vaping, a simple vape pen was likely all you needed. It was a great introductory device that let you explore different products without having to make a significant investment.
If you find yourself wanting for more customizable features, then the SteamCloud Box Mod may fit exactly what you are looking for. Powerful, highly customizable, and easily transportable, the SteamCloud Box Mod will satisfy even seasoned pros.
It is worth point out that this is for the new SteamCloud Box Mod, which has significant advantages over its predecessor of the same name. The original model had a battery capacity of 1300 mah and a max wattage output of 40 watts. The new Steam Cloud Box Mod brings even more power to the table with a battery capacity of 1600 mah and a max wattage output of 60 watts. This is a new beast of a vaping device!
However, if you are a fan of the original model, be not dismayed! The new model still follows the spirit of the old, including being compatible with 510 atomizer attachments, and it is still ideal for oil, wax, and dry herb. Simply put, if you liked the old SteamCloud Box, then you are going to love the new Steam Cloud Box!
And if you are not familiar with the SteamCloud Box Mod, then buckle up, because you are in for a treat. Get ready to learn about one of the best vape mods on the market!
Features of the SteamCloud Box Mod
The SteamCloud Box Mod has a ton of customizable features, as well as quality perks, that make it a great mod for premium vaping. It is compatible with most 510 atomizer attachments and is ideal for oils, wax, and dry herb attachments. The OLED screen gives a ton of information, including temperature level, wattage output, battery level, and warnings that help troubleshoot vaping problems.  These include if the unit is running too hot, if the battery is running low, or if the atomizer is low on product, the SteamCloud Box Mod tells you! This makes for an easy, frustration-free vaping experience!
The SteamCloud Box Mod has a fantastic battery, meant for all day use, but all that power doesn't mean it is a large, bulky product.  Actually the vape mod easily fits in the palm of your hand, making it ideal for use on the road and discrete vaping.
Specifications of the SteamCloud Box Mod
Compatible with most 510 atomizers can be used with dry herb, oil, and wax
60-watt battery with 1600 mah capacity
USB Charger
54 x 30 x 22 mm surface area
User Manual
While the vape mod does come with some charge, which is handy when checking for any out-of-box failures, be sure to fully charge the device before using for the first time.
The Battery of the SteamCloud Box Mod
The battery of the SteamCloud Box Mod is its strongest selling point. It is built to last all day with regular use, as well as provide as much power as you need for whatever you happen to be vaping, be it dry herb, wax, or oil. The battery can put out as much as 60 watts, though its power is customizable (and we always recommend starting with a low watt and working your way up).
With 1600 mah capacity battery, it will easily last you through a whole day of vaping, which is impressive, given the amount of power it can put out. You'll be hard pressed to find a more ideal battery for vaping.
How to Use the SteamCloud Box Mod
Even though the SteamCloud Box Mod is highly customizable, using it to vape is extremely easy. First, make sure that the device is completely charged (it will arrive with some charge, but it does not arrive fully charged). This can be done by connecting the included micro-USB connector into the side of the device where the battery is located and then plugging the cord into a USB wall connector. Very easy and very straightforward.
Once the device is fully charged and you are ready to vape, attach a 510 atomizer with the product of your choice; oil, wax, or dry herb.  The connection for the atomizer is a small threaded hole located on the small side of the device. Once the atomizer is securely fastened, quickly tap the power button five times. That turns on the device and immediately shows several pieces of information on the OLED screen. The battery level will appear, as well as the current watt output. Make sure that the wattage is set to the lowest possible option before proceeding further.
To control wattage output, there are two buttons next to where the atomizer connects.  You can adjust up and down and as high as 60 watts.
Once the device begins to warm the atomizer, you can adjust the wattage upwards to the ideal burning temperature for your oil, wax, or dry herb. Do this gradually, as the battery is strong enough to burn out your atomizer if you start too high!
Once you have completed taking a hit, click the power button quickly five times to power down the device. Simple, easy to use, yet powerfully effective!
How to Clean the SteamCloud Box Mod
Cleaning and caring for the SteamCloud Box Mod is pretty simple. Standard care for battery devices apply, so you want to avoid storing in extreme heat or extreme cold, as this may damage the battery or adversely affect the life of the battery.
As with most vaping devices, over time, oil and residue are likely to buildup on the device. Simply use a dry cloth to polish the device from time to time. Since oil, wax, or dry herb are not ever in direct contact with the SteamCloud Box Mod, there is not any extensive cleaning you really need to worry about. You may have to tango with the occasional leaky oil atomizer, but these are few and far between.
Who is the SteamCloud Box Mod Right for?
We recommend the SteamCloud Box Mod for any experienced vaping enthusiast who enjoys vaping a spectrum of products on standard 510 atomizers. The is an easy to use, versatile product that will easily fit at home in any vaping toolkit.  The wattage customization allows you to easily transition from oils, waxes, and dry herbs, and the OLED screen gives you the precise information you need for a premium vaping experience.
The price point is also a huge selling point. This is an extremely affordable vaping device, especially for the number of features it offers. Most small vape pens will run at least $15-$30, so this monster of a vaping device is very affordable for what it offers, almost a steal and the price point is not much of a barrier of entry for anyone interested in a device of this caliber. 
Since it fits at home with so many users, we found it easier to list who may want to think twice about it:
Vape Beginners
If you are just starting to vape, the lack of experience means you may not be using the device to its fullest potential, or you may even misuse it.  Not all atomizers are the same and if you do not pay attention, it is possible to send too much power through to the coil, burning it out, leaving the cartridge useless.  The box mod vape is very easy to use, but just make sure to understand adjusting the wattage output according to the various attachments being used – be they oils, waxes, or dry herbs.  If you find yourself enjoying a wide range of different products, then this product will be perfect for you.
Dry Herb Enthusiasts Using Products Without A Standard 510 Atomizer
If you enjoy vaping dry herbs in the new healthier way, via a convection vaporizer, you will want a convection vape.  Box Mods can be equipped with dry herb atomizers, but many of the atomizer options have an exposed coil that will combust the herbs – you will need glass screens to achieve and convection vaporization.
Users Not Looking to Highly Customize Their Vaping Experience
This product is absolutely perfect for customizing the exact, perfect vaping experience, as well as giving you a load of information about what is happening.  The wattage level, low atomizer warning, high voltage warning, and battery level are all going to be data points that are clearly presented. If you don't need or want this information, then definitely don't buy this product.  Of course, it then begs the question, if you are a seasoned vaping connoisseur, why would you not want that information?
Why Buy the SteamCloud Box Mod?
This is an excellent, safe, high-quality, highly customizable vaping device. You will be hard-pressed to find such a quality product, at such a quality price, beyond what the Steam Cloud Box Mod offers.
The SteamCloud Box Mod vs The SteamCloud EVOD
So how does the SteamCloud Box Mod compare to another SteamCloud battery, the SteamCloud EVOD?  They are both ideal for vaping any standard 510 cartridge, and they both have voltage customization options.  The difference lies in power vs portability and convenience.
The SteamCloud EVOD battery has a 900 mah capacity, which is great for a pen, but is nearly twice as small as the 1600 mah capacity offered by the Box Mod. Watt output is huge, too. The EVOD does offer wattage customization, but it is only going to be able to put out about 5 watts of power, as compared to the 60 watt output of the Box Mod.
Of course, the EVOD is a pen, so it slender, more discrete, and more convenient to carry and travel with.  In terms of quality, both products are fantastic, but if you are looking for power in a vape battery, the Box Mod is the clear winner. However, if you are looking for convenience and a lower price, the EVOD is a great option, being a bit more affordable than the Box Mod.