Who is SteamCloud Vapes?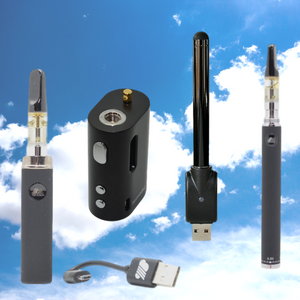 Leading the way in oil vape pen innovation is SteamCloud Vapes. We specialize in developing portable vape pens that utilize 510 thread oil cartridges. We completely oversee our own research, manufacturing and quality control for all of our devices. This means every device we produce will meet our high standards of quality and functionality, every time. Because SteamCloud is a specialty supplier devoted to developing and manufacturing, we only deal wholesale rather than direct to consumer. We let seasoned retailers with the best reputations do the selling for us so we can focus solely on making the best vaporizers for oils and more.
The SteamCloud name carries clout as a trusted and major vaporizer brand. We only produce quality, high-tech devices that have the ability to create thick and flavorful vapors with ease-of-use. We listen to the needs and desires of consumers, upgrading and advancing each new design with improved functions and special features. We also make our devices frustration free and user-friendly, which is why we specialize in oil cartridge vape pens. All of our devices can be equipped with skinny, 510 thread cartridges (or adaptors and attachments), which is the most common and reliable type of cartridge connector. You'll be able to find thousands of other oil, wax and herb tank attachment options that are compatible with our devices.
Our products are top of the line and built to last, using high quality materials and electronics. Despite high performance and functionality, our devices are also affordable, built with consumer budgets in mind. Having an excellent vape pen should not cost a fortune. A SteamCloud vaporizer is an investment that will last a lifetime without breaking the bank. SteamCloud has several different models of portable oil vapes to choose from. Whether you're looking for something sleek and discreet like the Stylus, or ultra-powerful and totally customizable like the Box Mod, SteamCloud vapes has you covered!
What is an Oil Vape Pen?
Oil vape pens are becoming increasingly popular. Oils are concentrated cannabis products that can be quite a bit more potent and flavorful than traditional dry herbs. When properly stored, concentrates have a much longer shelf life than dry herbs. Like the name suggests, these concentrates are slick and viscous, like an oil. The color of oil concentrates can greatly vary. However, quality oils will range between light honey and dark amber in color. The easiest and most mess-free way to vape oils is with a vape pen that has a 510-thread cartridge connector. This is the most common kind of connection, as most pre-filled oil cartridges on the market utilize skinny, 510 threads.
Oil vape pens are specifically designed to properly vaporize oil concentrates. There are many different types of vape pens on the market. Some vape pens come pre-set to the optimal temperature for vaping an oil cartridge, while others feature variable voltage or temperature settings for session customization. Some only vape oils while others will do a combination of dry herbs and concentrates. Portable vape pens vary in size, shape and power; from small and efficient to large powerhouses that last for a long time. SteamCloud vapes utilize skinny, 510 thread oil cartridges, and offer a model from each subcategory of oil vape pens: The Stylus, the Micro, the EVOD, the Mini 2.0 and the Box Mod. 
SteamCloud STYLUS Oil Vape Pen
The SteamCloud Stylus is the simplest and most affordable model in the SteamCloud family. It is small, sleek and super discreet, making the Stylus a perfect travel buddy. It is buttonless, featuring a pull-to-vape mouthpiece, which means it vapes when you take a hit. It comes pre-set to the optimal temperature for vaping oil concentrates and features an auto safety shut-off that activates after 8 seconds of consecutive use. It keeps the oil from scorching and saves battery life. This ultra-portable vape pen features a stylus point at the end. It works great with smart screens, like phones and tablets, which makes using your phone while you are vaping much easier. This vaporizer uses 510 oil cartridges so loading new concentrates is fast, easy and completely mess free!
SteamCloud MICRO Oil Vape Pen
If you are looking for something with a little more control, try the SteamCloud Micro. It features a compact battery with variable voltage setting so you can customize the temperature. It is powerful enough for waxes, oil concentrates and dry herbs, just make sure to use a 510-thread oil cartridge or attachment.  This vaporizer is potent but pocket-sized, making it an excellent travel companion. The Micro vape pen is durable, powerful and portable, but comes at an extremely affordable price.
SteamCloud EVOD Oil Vape Pen
The EVOD vape pen is the next step up in the SteamCloud family line. The EVOD vapes oils, waxes and dry herbs, producing flavorful vapor quickly. It utilizes a skinny, 510 thread so you can change out oil cartridges, wax atomizers and dry herb heating chambers with ease. It is more powerful than the Micro and Stylus, featuring a 900mAh Lithium-ion battery with variable voltage functionality. Just twist to adjust the voltage setting: 3.3V, 3.8V, 4.3V and 4.8V. The EVOD portable vape pen is small and sleek; it can easily fit in a purse or pocket so you can vape on the go.
SteamCloud MINI 2.0 Oil Vape Pen
If you want a vaporizer that is powerful, portable and easy to use, you need the SteamCloud Mini 2.0 oil vape pen. It features one of the best batteries available with variable voltage functionality. The voltage settings are color coded for simplicity: green 3.4V, blue 3.7V, and red 4.0V. The device also has a 1.8V preheat setting, which is great for priming new cartridges. This pen works best with 510 thread oil cartridges, but you can use the adapter and vape a wax cartridge too! Not only are 510 thread cartridges the easiest way to vape oils and waxes, but this device features durable and strong magnetic adapters for an even faster and easier way to connect cartridges to the vape battery.
SteamCloud Box Mod Vape
The SteamCloud Box Mod Vape is the most powerful portable vaporizer model we offer. It vapes it all - dry herbs, waxes and oils - rapidly making potent, flavorful and dense vape clouds. It packs one of the smallest batteries on the market but boasts a powerful 1600mAh output that holds a charge that will last all day. The variable voltage setting lets you adjust the temperature, with a working range of 200°F-600°F. It also has different modes so you can easily switch from oil to wax to dry herb attachments and be ready for an optimal vaping experience. This vaporizer is compact, making it one of the most portable box mods vapes on the market. Plus, it has a price point that is budget friendly.
What is the Best SteamCloud Vape?
We proudly stand behind all of our SteamCloud vaporizers. The best choice for you will ultimately depend on your needs, preferences and budget. Some people are looking for sleek simplicity and ultra-portability; they should seek out the Stylus. Some people want to be able to customize their sessions with ease without losing out on simplicity and portability. The Micro and EVOD oil vape pens are both great choices. The Mini 2.0 is the perfect fusion of an oil vape pen and a box mod. It packs a potent and powerful punch in a small, portable package. For a budget friendly box mod with excellent features and superior portability, the SteamCloud Box Mod cannot be beat!
No matter what style of SteamCloud vaporizer speaks to you, you'll be investing in a high-quality device that is user-friendly and easy to use. All of our vape pens are designed with discretion portability in mind. We also know that traveling can take a toll on a vape pen, so we build ours to be rugged and durable, using high-grade materials.  All devices will need maintenance and upkeep, which sometimes includes replacement parts. Those parts such as the oil cartridges and wax coils are just as easy to come by as our vape pens, all generally being in the same place that we carry vaporizers.
Where to Buy a SteamCloud Vape?
Since SteamCloud specifically focuses on quality control and manufacturing, we only sell to wholesalers. You can be confident when purchasing a SteamCloud vape through a third party as we only deal with qualified sellers that have a gold standard reputation of doing right by their customers and offering the best deals possible. You can find our vaporizers at many locations! We are stocked across the country at brick and mortar vape stores and head shops. Shopping online is another great way to see the widest selection of vape pens and replacement parts. Just Google us! There are lots online shops to choose from that are authorized to stock SteamCloud vaporizers, many of which offer free shipping on most purchases.