SteamCloud EVOD Vape Review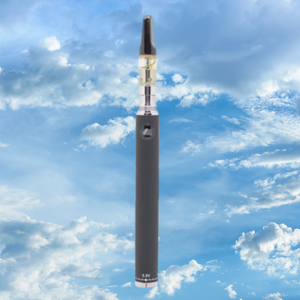 SteamCloud EVOD Vape Battery for Cartridges
For consumers seeking a simple, straightforward vape battery that does not require cumbersome accessories or extensive, intimate knowledge of the complexities of vaping to get it to work optimally, the SteamCloud EVOD vape battery may be ideal.  The sleek, matte-finish battery pairs easily with your favorite cartridge and is compatible with all types of concentrate (including both oils and waxes), allowing you to vape your choice of concentrate easily and discreetly. 
This slim, portable vape battery is exceedingly well-suited for on-the-go use with nearly any 510 cartridge or tank.  The battery is customizable in more ways than one; the voltage dial allows for easy adjustability, and its size and shape makes it compatible with most vape cartridges available on the market today. 
For most intents and purposes, the battery looks like what is commonly referred to as an e-cig battery – it is portable, lightweight, and inconspicuous, with a slender matte-black body and a glossy black button near the top, where the cartridge is attached.  The key difference is in the discreet voltage dial located at the bottom of the battery.  This dial allows you to customize your voltage up to 4.8 volts, creating everything from smooth, flavorful vapors to dense, impressive clouds according to your taste, mood, and the concentrate you are using.
The SteamCloud EVOD is compatible with any of the skinny, 510 oil or wax cartridges commonly available for vaping -- simply attach the cartridge of your choosing to the top of the (charged) battery, adjust the voltage using the dial at the base, use the button near the top to vape to turn it on, and then enjoy your concentrate, wherever you are. 
As pen-style vapes are becoming increasingly popular, the EVOD makes an excellent vape battery for people looking for a balance between performance and customizability at an affordable price.  The EVOD vape battery is portable, discreet, and easy to use at any level of experience, making it an excellent option for newbie vapers and seasoned vape lovers alike. 
FEATURES OF THE STEAMCLOUD EVOD BATTERY
Perhaps the most attractive features of the SteamCloud EVOD are its portability and ability to customize the vapor experience.  Its compact size and lightweight construction allow you to take it just about anywhere you care to.  The dial at the bottom of the battery allow you to change the power output so you can have a smoother or heavier vapor.  In addition, the vape is very discreet – the EVOD looks like an e-cig battery, save for the silver-toned voltage dial tucked away at the base of the battery.  It is lightweight and sleek in design, similar in size and weight to a high-end ballpoint pen when fitted with a cartridge, so it fits easily into pockets for use on the move.   
The EVOD is compact enough to go anywhere you are, from the train in to work to your dog-walking route to that favorite spot at the summit of your favorite hiking trail.  Its small size allows you to hide it in your hand for optimal discretion, and it tucks away easily into pockets of just about any size, permitting you to carry it in a purse, backpack, or even ordinary pants pockets. 
SPECIFICATIONS OF THE EVOD VAPE BATTERY
Compatible with nearly all slim 510 vape cartridges

Min. is 3.3v, Max. is 4.8v

Battery Capacity - 900 mah

Variable Voltage allows you to adjust the voltage with the twist of a dial
The kit includes the battery and a USB charger (with the option of adding a wax cartridge for $6), everything you need to get started vaping aside from the concentrate itself. 
WHY BUY THE STEAMCLOUD EVOD VAPE BATTERY?
The battery is simple to use and allows you to customize the voltage for use with your choice of concentrates, from oils to waxes.  Its straightforward design minimizes the potential for malfunctions and eliminates the risk of missing parts while providing high-quality vapor and easy adjustability.  
The EVOD vape battery allows you to go for long stretches between charges, even if you are a relatively heavy consumer and use it regularly.  We were able to get about three days between charges with very frequent use.  The battery uses a single push-button to turn on and the voltage is easily adjustable for different tastes and vapor qualities, allowing you to customize it to your mood that day or the concentrate you are vaping. 
HOW TO VAPE WITH THE STEAMCLOUD EVOD
Because the EVOD vape battery is so simple to use, it is essentially impossible to use wrong, even for newbie vapers.  As long as it is connected properly to a compatible cartridge, the battery will work correctly and generate heat, allowing you plenty of flexibility and customizability.  While most concentrate cartridges tend to be single-use, they are sometimes refillable -- if not, you can always remove the old one and attach a new one as needed or desired.  As long as you don't do damage the battery itself (be sure to keep it away from water and excessive heat), the EVOD should last you for many years to come. 
To use the EVOD, charge the battery using the compatible USB charger included in your kit.  The charger can be connected to any working power source, from laptops to phone chargers to even the cigarette lighter in your car.  After an hour or two of charging, the device will be fully charged and ready for you to use! 
Once the unit is charged, connect the 510 oil cartridge of your choice, or fill the accompanying wax cartridge with your preferred concentrate, and screw it securely on to the top of the battery.  Be careful to follow the threading to ensure a snug fit -- once that is done, the circuit is complete and the battery will now operate. 
To start your first vape session, set the voltage dial at the bottom to your desired level -- it may take a bit of trial and error to find your preferred setting, so do not worry if your first draw is not ideal -- and press and hold the button located at the top of the battery to draw your vapor, then release the button when you are satisfied.  The lower voltages will result in smooth, delicious vapors, while the higher voltages will create rich, dense clouds of vapor. 
HOW TO CLEAN YOUR STEAMCLOUD EVOD
As with any vaping device, keep the EVOD away from intense heat (don't leave it in your car during the summer!) or excessive moisture, as both of these could potentially damage your battery.  If the battery overheats, not likely during regular use, but may be possible if the battery exposed to intense heat or open flame, it could catch fire or explode; avoid injuries and take good care of your vape by storing it responsibly and ensuring it isn't exposed to open heat sources, like flame or electric currents.
That said, as long as you use the SteamCloud EVOD correctly according to the instructions provided by SteamCloud, you will not have any problems with it.  Make a habit of storing it in a drawer or bag that is never subject to extreme heat to keep yourself (and your vape) safe. 
After a few weeks of use, you will likely need to wipe the battery clean of any oils or dirt from your hands that it has collected.  You can do this using a slightly damp (not soaking) cloth; microfiber is your best bet, but something like a washcloth will do in a pinch.  Cartridge leaks can sometimes be a problem; if this happens to you, use a dry paper towel to absorb any escaped concentrate from the threads of the battery before replacing the cartridge, preferably with a fresh cartridge that does not have any leaks.
WHO IS THE STEAMCLOUD EVOD RIGHT FOR?
If you are looking for a straightforward, easily adjustable vaporizer that balances simplicity with functionality, the EVOD might be for you.  Ideal for consumers who can easily obtain pre-filled cartridges (which continue to become more popular and available to consumers), the EVOD offers a discreet and customizable way to vape in just about any setting, from crowded concerts to leisurely walks and everywhere in between.  
Whether you are new to vaping or have very specific tastes and preferences, the SteamCloud EVOD is user-friendly and easy to adjust, offering plenty of flavor and temperature control.  The EVOD strikes that difficult balance between simplicity and customizability, providing the best of both worlds to a diverse customer base. 
STEAMCLOUD EVOD VS. THE STEAMCLOUD MINI 2.0 
While both devices are small and discreet, the EVOD gets extra points for its slender shape that allows it to fit into virtually any pocket, compared to the rectangular shape of the Mini 2.0.  Both the EVOD and the Mini 2.0 offer compatibility with both oils and waxes, though the temperature and flavor controls are more precise with the EVOD (the Mini 2.0 is limited to three temperature settings -- fine for many consumers, but less adaptable to particular tastes).  The EVOD also takes the lead in price, offering both affordability and adjustability.  This makes the EVOD an excellent device for both seasoned vapers and beginners seeking to explore their options before committing to a higher-priced vape.  
The SteamCloud EVOD is an excellent portable device for consumers who value ease of use and discretion.  Its compatibility with single-use cartridges may appeal to consumers who feel uncomfortable refilling reusable cartridges by themselves.  The EVOD offers a variable and adaptable vape experience for a diverse customer base, from users completely new to vaping all the way to veteran vapers.