SteamCloud Mini 2.0 Vape Review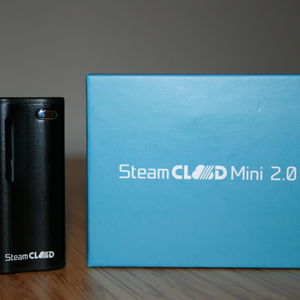 You've got options – we carry many portable vape pens these days.  Each of our Vapes are held to a high standard of quality, functionality and affordability.  We create sturdy devices with the latest and greatest technology available. The SteamCloud Mini 2.0 oil vaporizer is one of our most popular models. It's a portable vaporizer for oils or wax that packs a serious punch!
The Mini 2.0 is the upgraded version of the SteamCould Mini. It is small and sleek, easily fitting in the palm of your hand. It is discreet, capable of being tucked away in a purse or pocket. It is minimalistic and easy to use, with features like magnetic closures and a simple variable voltage setting.  It heats up fast too and delivers a deliciously potent vapor. The Mini 2.0 vape is compatible with 510 oil cartridges as well as wax concentrates with the quartz rod wax atomizer attachment. It is a device that beginners will have no trouble using, and seasoned vapers will love.
What Comes In The SteamCloud Mini 2.0 Kit?
When you purchase a vape kit from SteamCloud vapes, you'll have everything you need to get started quickly. There's also a little extra so you won't need to buy any replacement parts for a long time. Here's what comes in the Mini 2.0 kit:
1 SteamCloud Mini 2.0 oil vaporizer
1 Magnetic Cartridge Battery
2 Metal Ring Oil Cartridge Adapters
1 Metal Dab Tool
1 USB Charging Cable
1 Instruction Manual
Why Buy the SteamCloud Mini 2.0?
There are plenty of reasons to upgrade to a SteamCloud Mini 2.0 oil vaporizer.
Powerful Vape Battery
The SteamCloud Mini 2.0 is small but extremely powerful. It's 650mah battery will last all day, unlike other vape pen batteries that only last for a few sessions, the Mini's battery allows for rapid heat up - it's ready to go in as little as 15 seconds and features a preheat function, and will last all day.
Discreet Vape Design
Slender models that are shaped like a long stick are fragile and tend to snap from the cartridge when stored in a pocket or dropped. The Mini won't easily break. It features a rectangular shape and side-by-side battery design so it is sturdy and can be gripped firmly. SteamCloud only uses quality materials that will hold up to daily wear and tear.
Magnetic Connectivity
The magnetic cartridge connection is one of the best features of the Mini 2.0. It makes changing and reloading the cartridges a snap! The magnet has a powerful grip, locking strongly into place. You can shake and wiggle the vape around without fear of losing the top. The magnet closure will actually extend the life of your device as screw top models tend to get gummed up or threaded wrong which eventually wears out or breaks the battery/atomizer connection.
Variable Voltage Vape Settings
Many lesser quality oil vaporizers have only one heat setting, but the SteamCloud 2.0 features a variable voltage setting so you can have an optimal vaping session every time. It is an easy to read system with three levels: Green is 3.4 volts, Blue is 3.7 volts, and the top level is Red at 4.0 volts. The higher the voltage the higher the temperature and the hotter the coil. Higher voltage equals faster vapor production and bigger hits.
Preheat Vaping Function
The preheat feature of the Mini 2.0 was only slightly mentioned above. It is used to prime new cartridges before vaping. The preheat puts out 1.8 watts of power for 15 seconds. You can then bump it up to full blast without scorching the oil or wax for maximum vapor and flavor.
How To Use The SteamCloud Mini 2.0
Portable vaporizers are fairly new and each function slightly different. It's okay to have questions when it comes to using a new vaporizer. The SteamCloud Mini 2.0 comes with a user manual that covers device usage and maintenance, but the basics are outlined below:
The first thing you should do, after fully charging the device, is turn it on! Turing the vaporizer on or off is easy. Press the power button 5 times in rapid succession.
The variable voltage setting can be changed with the same button. While the device is on, quickly press the power button 3 times in a row. The settings go from low to high then back to the lowest setting.
If you have attached a new oil cartridge or want to vape a lot quickly, use the preheat function to prime the device. To activate the preheat function, quickly press the power button twice in a row.
To start vaping, make sure the device is on. Press and hold the power button to heat the coils. For best results heat in short bursts. The Mini 2.0 features an auto-stop feature which stops heating after 10 consecutive seconds. This will save the battery and heating elements from wearing out.
When the battery needs charged, use the included micro-USB cord and attach to a wall adapter. It should take about 3 hours to fully charge. Make sure to unplug the vape after it has reached a full charge. Also, be sure to fully charge it before your first use. This will greatly extend the battery life.
SteamCloud Mini 2.0 Tips
Now that you know how to use your SteamCould Mini 2.0, here are some tips and tricks that will help you make the most out of your vape session.
Firstly, wax and oil vapes should be kept upright, especially after use. This is because concentrates turn into a viscous fluid when warm that flows with gravity. If left on its side or upside down, the hot oil can leak. This will leave a sticky mess and you'll lose the concentrate to waste.
The Mini features a super strong magnet connector. The metal magnet ring holds the cartridge to the battery securely and better than a screw top. The kit comes with spares. However, if you happen to lose them both, the cartridge will still work with the battery. Just push the cartridge down into the battery to make the connection.
If you're trying a new oil or wax for the first time, it is recommended that you start out on the lowest setting, Green. Raise the voltage setting after a few hits. This will ensure that you don't overheat the concentrate and you'll enjoy the best flavor possible. While you don't have to, it is recommended that you prime new oil cartridges using the preheat function. A new cartridge tends to be thick and slow moving, which can prevent you from getting a good hit. Preheating will make sure you get a good hit the first time.
Maintaining and Cleaning the SteamCloud Mini 2.0
This oil vape doesn't require much in terms of cleaning and maintenance. You should regularly clean the outside of the vape, around once a week. The best way to do this is just to wipe away the reside with an alcohol wipe. The inside can get very sticky with buildup. Residue and build up with greatly affect the flavor and vapor production for the worse. Do a deeper cleaning of the inside about once a month (or more often with heavier use) to prevent this from happening. Use a cotton swab or small brush to remove the residue. Solvents are not recommended on the inside of the vape.
While the sturdy build and magnetic closures make for a wax vape pen that will last a long time, occasionally parts will need to be replaced, like the battery, atomizer or charging cable. The kit comes with your first set of replacement parts. Sourcing more replacement parts when the time comes is easy with many local retailers and online shops carrying SteamCloud components. Make sure you keep your portable vaporizer clean and properly maintained as it will greatly extend the life of your device for years to come.
Is the SteamCloud Mini 2.0 for me?
When it comes to selecting the right vaporizer for you, you'll need to figure out what your needs and budget are. There are cheaper models on the market, but they are prone to breaking quickly and working pitifully. There are also more powerful kinds of vaporizers, however they tend to be big and bulky with a price tag to match. The SteamCloud Mini 2.0 is an excellent deal for the quality and price. It is an investment that you will save you in the long run, rather than a cheap tool you'll need to replace often. It creates thick clouds of flavorful vapor quickly. It is easy to use from the straightforward variable voltage setting to the quick snap magnetic closure. It's also sleek and discreet, making it an excellent traveling companion. Like all SteamCloud products, the Mini 2.0 oil vaporizer will be something you'll enjoy using time and time again.