How To Use A Vape Pen For Oil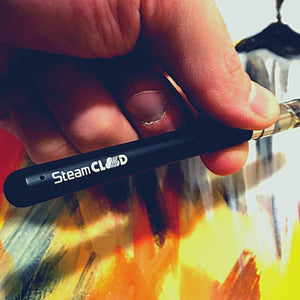 With the advent of various vaporization modalities taking precedence over smoking for the past decade, popular brands have emerged that have taken the world by storm in the world of vaporization. SteamCloud Vapes is on the forefront of cutting-edge vaping advancements in the industry to bring you the latest in vaporization technology. From the box-mod to the pen-shaped discreet portable vapes, having a high-quality device to choose from at an affordable price is no easy task. Here we will be taking you through a quick & easy guide for using a specialized vaping modality, that being of oil concentrate vaporization, one of the most popular forms of vaping today.
With so many styles on the market to choose from, vaping oil has come to be known as one of the most effective ways of consuming concentrates without the use of combustion tools such as torches or lighters. The added convenience of having a portable unit to take your vaporization on the go adds to the appeal of having big thick clouds of vapor produced by such a small unit. Oil tends to produce massive hits in comparison to dry herb vaping for example. Full flavor profiles are achieved with the use of oil, and in this guide, we will break down exactly how to use some of the most popular models.
What is an Oil Vape Pen?
The truth is that oil vapes are still relatively new on the market, so it makes sense if you are not sure exactly how to effectively use one. With so many advanced models hitting the shelves, it is hard to pick & choose the right one to suit your needs. Since there are many different types of vape devices for oil concentrates, how to use one will depend on exactly which model you have, and how experienced you are. Some people are able to pick up a vape and intuitively press a button down and take a good hit, while others will pick up the same pen and ask, "-so I just press down on this button?" There is nothing wrong with that, and the more you learn about these types of vapes, the better off you will be as an experienced user.
In general, oil vapes are simply electronics designed to heat an oil concentrate or e-liquid and turn it into vapor by way of a specialized heating rod within the atomizer. Oil vapes can be large, small, come with variable voltage, be either cheap or expensive, or come with advanced display screens while others are much simpler in design. Choosing one will ultimately come down to a matter of personal preference, though it is important to know the differences between models, and what you are looking for exactly. Some vapes can be powered on by the push of a button, while most other oil vapes require you to press down the power button up to 5 times depending on what model you have.
How To Use Vape Batteries for Skinny 510 Oil Cartridges?
With the explosion of vaping oils & e-juices making their way to the vape scene, refillable cartridges are now an immensely popular choice for those who wish to simplify things. Refillable cartridges make it much easier to accommodate your favorite oils without having to rely on disposable cartridges, saving you money over time. The standard 510 battery thread is the most common type, giving more versatility for your choice in cartridges. With this type of battery all you would really need to do is simply screw on your select atomizer anytime you feel like switching it out, and since it is a 510 threading, your choices are much broader.
Unlike other vapes on the market that are confined to just one modality, a 510 threading can accommodate different types of atomizers that utilizes certain coils and vape materials. Vapes like the SteamCloud EVOD are known as 3 in 1 vapes, or combination vapes which can vaporize all three vape materials: dry herbs, wax, and oil concentrates / e-juice. A skinny 510 oil cartridge can fit just fine for models like the SteamCloud Stylus as well.
How To Use Variable Voltage Oil Vape Pens?
As the popularity of vaporization methods grow, so do the innovation and basic batteries which can now be found with variable voltage and precision temperature control. The more sophisticated models on the market can accommodate your preferred vaping material by switching out the atomizer and coils at times, though this is not always the case in regard to the coils. Through the screen interface, different settings can be made to change the wattage, voltage, heat settings, and preset material heating recommendations.
With just a simple cartridge switch and a few pushes of a button you can quickly go from wax concentrates to e-juice & oil, creating a truly tailored experience based on your individual tastes & preferences. Models such as the SteamCloud EVOD have what is called a twist variable voltage, which allows you to adjust the voltage with the twist of the dial located on the bottom of the unit. The SteamCloud Mini 2.0 is another example of a variable voltage vaporizer. All you need to press the power button three consecutive times and the voltage setting will change. 
How To Use Box Mod Vapes?
Although box mod vapes are truly a category themselves, these are basically sophisticated, high-tech battery units with various functions for advanced users. First made popular during the beginning of the vaping craze by e-juice vapers, the box mod style vaporizer can also be used with popular pre-filled cartridges. Some models are also considered to be 3 in 1 vapes that can also utilize every manner of material from dry herbs to wax, e-juice & oil concentrates.
Box mods are typically bigger and ergonomically designed to fit into the palm of your hand, though some models are also much smaller, also called stealth units, which are designed to be light, portable (in smaller areas like pant pockets), and can still be efficient in creating huge vapor clouds like the bigger models. Depending on what type of unit you have, you will find the majority of these to have a slight learning curve, though still user friendly. Setting voltage and temperatures are usually done on a screen, though some box mods are simplified with a couple buttons on the side.
How To Choose the Right Temperature for Your Oil Pen?
The average oil vape just heats up at one setting with either a button or direct from your first draw. If you have a variable voltage battery or a box mod however, the right setting will depend entirely on the type of attachment that you have on the device, your preference for a big or small hit, and whether or not you are actually vaping an oil concentrate or e-juice.
Since both of these can vary in their viscosity or consistency, dialing in the right voltage if you have the option will be a significant perk, as not having the right temp will leave you with either an under-vaped product, or a harsh vape hit. Always make sure that you start out at the lowest setting possible and slowly work your way up to the desired setting to ensure the best possible experience. Doing this will also ensure that you do not inadvertently burn out the coil by setting it too high.
How To Clean Oil Vape Pens
The truth is that aside from an accident or a spill, oil vapes typically do not require much cleaning at all besides a general wipe down of the exterior. The main area of focus when it comes to regular maintenance would be the mouthpiece, as this can get quite dirty over time. From a hygienic standpoint, it goes without saying that this should be a regular part of your maintenance routine to ensure the integrity of your vaporizer and to protect yourself and others who may share your oil vape pen.
A good tip to remember is to always place your oil vape upright to prevent any oil from spilling into the mouthpiece. If an oil cartridge is left on its side while the unit is still warm, there is a good chance that the oil will leak directly into the mouthpiece. This can clog up the mouthpiece and cause irregular heating of the cartridge which could damage it over time. Never use any liquids directly into the atomizer or battery compartment, as this may permanently damage the unit.
An Important Tip When Using Pre-Filled Oil Cartridges
As mentioned before, oil vape cartridges do not typically require as much power, so if you are using a box mod or variable voltage vape, make sure to start at the lowest setting possible and slowly work your way up to the desired setting. This will ensure you dial in the right preference to suit your tastes and will prevent the coil from burning out prematurely. It should be noted that 4 to 6 watts is typically a solid range, and any more than 7 increases the risk of burning out your cartridge before oil is even completely done vaporizing. This can lead to lost oil over time which can be a costly mistake.
If you desire big, thick clouds reminiscent of smoke, know that using an exceedingly high setting will not provide you with the vapor that you seek if your unit burns out! Another quick tip to know is that despite the fact that pre-filled cartridges are meant to be disposed of after use, you can actually refill them which can also save you time & money in the long run. There are many videos on how to do this online. It should be noted however, that over time you will want to acquire a vape cartridge that is meant to be refillable to avoid any problems that can arise from repeated use from disposable cartridges.
How To Charge an Oil Vape Pen?
To charge an oil vape battery (depending on the model), first turn the device off and unscrew any cartridges or attachments. You will want to screw the battery into the included USB charger and plug the charger into a power source like a wall outlet. Make sure the battery connection is not too tight or too loose in the charger as this will affect charging times and efficiency. While the battery is charging up, the charger itself will display a light or an indicator (again, depending on the model). Once the battery is fully charged, the light on the USB charger will let you know when it is ready.
Simply remove the battery from the charger and take off the charger from the power source. Never leave your unit charging for longer than intended as this will lead to over-charging, which degrades the battery faster over time. Once charged and removed from the USB charger, you may reattach an oil cartridge (or other 510 thread attachment) and start vaping right away. Once loaded, remember to leave your oil vape in an upright position to prevent oil from leaking into the mouthpiece.
Where to Find More Information About Oil Vapes
SteamCloud produces the finest vaporizers on the market, with a reputation for having some of the most popular models backed by a 5-star track record for excellent customer service. We have a library of blog posts & reviews which highlight the many topics surrounding the use of our vapes and vapes in general. As we say on our site, whether you are new to vaping, or an expert, we are always available to help with everything from the most basic questions to the complicated stuff! If you ever have additional questions about oil vapes or any other vaping modality not listed here, feel free to reach out and contact us! At SteamCloud, we want you to know that we care about our customers and their experiences with our vapes, so help is always just a click away! We hope that you have found this article to be helpful, thorough, and informative. From all of us at SteamCloud, happy vaping!
Written By: Anthony E.