How Much Is A Vape Pen?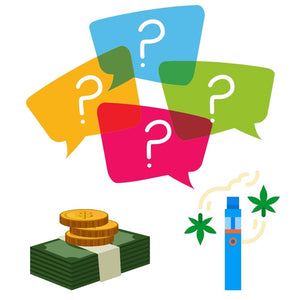 Whether you are trying to quit tobacco smoking, interested in a different way to enjoy dry herbs and wax, or even if you are just curious, you have probably looked into vape pens. Their popularity continues to rise as does the available selection of products from which to choose.
Of course, if you are new to vape pen shopping, the first question you are probably asking yourself is "How much is a vape pen?" The cost of a vape pen is going to vary depending on a lot of different factors. Battery capacity, available features, what it is built to vape, and even the brand name can all impact the cost.
The question of how much a vape pen cost does not have an easy answer since it is so model specific. However, there are specific features and functions that commonly add to the cost of a vape pen. Below, we will talk about what common factors impact the cost and the best way for you to be able to choose a vape pen in a cost range that is most comfortable for you.
What Makes a Vape Pen Cheap or Expensive
Here is the breakdown of some common features and functions that add to the cost of a typical vape pen.
Different Types of Vape Pens
The term "vape pen" can refer to four major categories of devices: oil vape pens, dry herb vape pens, wax vape pens, and box mods. Dry herb vape pens have large heating chambers that require large battery capacity to operate successfully. Both of these features mean that dry herb vape pens will generally be more expensive when compared to oil or wax pens. If you are not looking to invest a lot in a high-quality vape for one individual substance, then a box mod might be a fantastic option for you!
Box mods are vape batteries that are loaded with power and features. They usually have large battery capacities, precision heating options, display screens, and more. As you can imagine, a full-featured device like a box mod is will be more expensive than more basic vape pens. Though they tend to be on the more expensive end of the spectrum, they can also handle all different kinds of accessories. Many vaping enthusiasts use box mods to enjoy oil vaping, wax vaping, and dry herb vaping, instead of buying a specific vape for each substance. We talk about a box mod at the end of this article that does this job amazingly!
Vape Battery Capacity and Quality
As we have mentioned, the larger the battery capacity, the more expensive your vape pen is going to be. The battery is usually the most expensive component in any given vape pens! When shopping, you should always make sure that the battery capacity will fit your lifestyle, You should also be wary of really cheap vape pens with high-capacity batteries. These are likely lower quality batteries that have shorter lifespans than a typical quality battery.
How important the battery capacity will completely depend on your individual preferences. If you plan on regularly traveling or being out and about with your vape pen, larger battery capacity will be important to make sure you do not have to interrupt your vape sessions with a dead battery.
Vape Functions
The features and functions that are available on your vape pen will also impact the price of a given product. The brain inside any vape pen is called a PCB chip. The more complicated the processes that need to be run, the more complex the PCB chip will be, which will raise the price of the vape pen. The functions that the PCB chip controls include temperature control, auto heat settings, safety shut off settings, and any other cool features included with any given vape pen. For a real-world comparison, the SteamCloud Stylus vape has a super simple PCB chip since it has such few operable features. It does not even have a power button, and its simplicity makes it quite budget-friendly. On the other hand, a box mod can have all kinds of different functions and features, which is why it is not uncommon to see them be quite expensive.
This will end up being an important part of the decision-making process of what vape you end up purchasing. Do you want a simpler vape that is less expensive or a feature-rich vape that is more expensive? If you want a real-world comparison between two quality products with significant price differences, we have one between the SteamCloud EVOD and the SteamCloud Box Mod at the end of this article!
Vape Display Screens
Many vape pens do not have display screens, which means it is up to you to read the manual to learn how to understand the information provided by the pen. Display screens are a great feature, especially for those inexperienced with vaping, but add to the overall cost of the pen. If you want a vape pen with a display screen, expect to shell out a few more bucks than a simpler device.
Brand Names
Just like with most products, popular brands demand a higher premium than less popular or new brands do. An established brand can give comfort to those with buying anxiety, as customer and professional reviews will be readily available. Of course, doing the work of establishing your brand as reputable translates to being able to charge a higher premium.
Vape Coil Attachments
Vape coil attachments are more geared towards oil vapes and wax vapes. The heating element for these vapes can be a variety of different materials, including wicks, ceramic, and quartz. They can also have multiple heating coils (which is popular in wax vapes especially). Depending on the material and the number of heating coils present will be a big factor in how expensive your vape ends up being.
Inexpensive Vape vs Expensive: EVOD vs BOX MOD
It can be helpful to have a real-world comparison of a quality vape that is less expensive and a quality vape that is more expensive. The SteamCloud EVOD is a very budget-friendly vape that provides a quality vaping experience for those that either do not want or do not need a lot of extra features. It is built with 510 threading, so it can be used with a lot of different attachments that can be used for oil, wax, or dry herb vaping. It has variable heating, which is important for customizing your flavor experience, and the 900mAh battery is perfect for most vaping attachments. The EVOD is a great choice for those that want something simple and easy to use. It is also a great travel companion since it is slender and discreet, and the battery capacity will easily last a day of vaping oils and waxes (though it will drain pretty quickly if using dry herb attachments, as they are quite power-hungry).
If you need your vaporizer to be more feature-rich and you do not mind paying a premium for it, the SteamCloud Box Mod is an excellent choice. Like the EVOD, it is compatible with most 510 threaded attachments, but its 1600mAh battery will be able to tackle power-hungry attachments (like for dry herb vaping) much longer than the EVOD will. It also offers precision heating options but has a much larger temperature range (200F - 600F), which will be ideal for higher wax vaping temperatures. The Box Mod also features a display screen, showing you the battery level, power output, error messages, and several other useful pieces of information.  
It should be clear to see that, while both vapes are very high quality, the Box Mod is able to offer more features because of its higher price. However, if you want something more simple, something a little more discreet, or simply something less expensive, then the EVOD vape pen will be ideal. Both of these vaporizers can be purchased right here at steamcloudvapes.com, where you will get FREE U.S. SHIPPING on any order, no order minimum required!
Written By: Matthew H.